Fight Seasonal Affective Disorder (SAD) With Other Bright Light Products
The Light Visor from BioBrite & PEP
White Visor Light
The Visor Light is the white light version of the FeelBrightLight green light device.  It provides high intensity white light for effective phototherapy with the convenient mobility of a visor light device.
Produces 8,000 or 12,000 Lux of light – adjusts to ambient room light
Bright white LEDs with no harmful UV Rays
rechargeable batteries
Comes with a visor and recharging power supply
Made in North America
$250 plus shipping and handling
The Luxor from Northern Light Technologies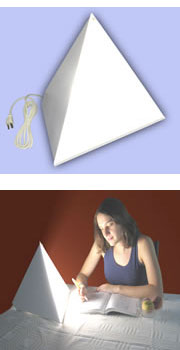 Desk Top Light
The LUXOR produces a very pleasant, bright, diffuse and even light, unmatched by every other desk-top product!  This beautiful lamp, a real eye catcher, consumes only 45W yet delivers 10,000 Lux at over 12", the proper dose recommended for SAD.  The LUXOR's design simplicity makes it ultra reliable, and a most affordable unit.
Produces 10,000 Lux of light at 12"
Excellent Reading and Task Light
Comfortable Safe Light with flicker free electronics
UV Filter blocking harmful UV Rays
Solid case, entirely steel
7 year warranty
Power: 45 Watts, Weight: 4 lbs
Made in North America
$175 + Shipping & Handling
The Lumie Bodyclock Active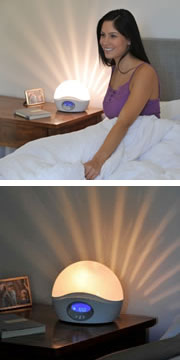 Dawn Simulation Light
Wakes you with a sunrise, naturally setting your sleep/wake cycle to help you feel refreshed, alert and energised all day.  The Bodyclock may be used in conjunction with the Feel Bright Light to combat SAD.
Snooze; Dimmable bedside light
Radio with security light option
Power Fail Backup
Auto Dimming Display – includes option to switch off display at night.
Sunray Effect when light comes on – 15-to-90 minute sunrise
Sunset Only Option – enjoy a sunset without a sunrise – 15-to-90 minute sunset
Dimensions: 7-1/2″ W x 5-1/2″ H
2 year warranty
$140 + Shipping & Handling